Example below of the QM2 tour (large size) as would display in your website.
Step 1 - Select the ship and initial view for your tour.

Queen Mary 2

Queen Elizabeth

Queen Victoria
Step 2 - Select the size of tour window you want below.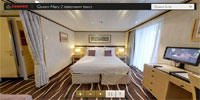 Large (853x480)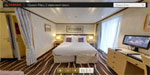 Medium (640x360)

Small (560x315)
Or, specify custom dimensions as per your requirements.
Step 3 - Select a language.
Step 4 - Copy and paste the below code into your website.
Thank you.